About
About Us
How to use this Resource
Role of the Speech Pathologist
References
About Us
What are we all about?
In this day and age, more children are spending increasingly longer times at childcare centres. A survey through the Australian government found the percentage of children in formal early childhood education and care was 16% at 0-1 years, 58% at 2-3 years and 93% at 4-5 years (Figure 1; Baxter, 2015). This leaves early childhood educators in a position to be able to identify difficulties and support speech and language development. It is therefore vital that early childcare educators stay well informed about communication development and have access to readily available resources.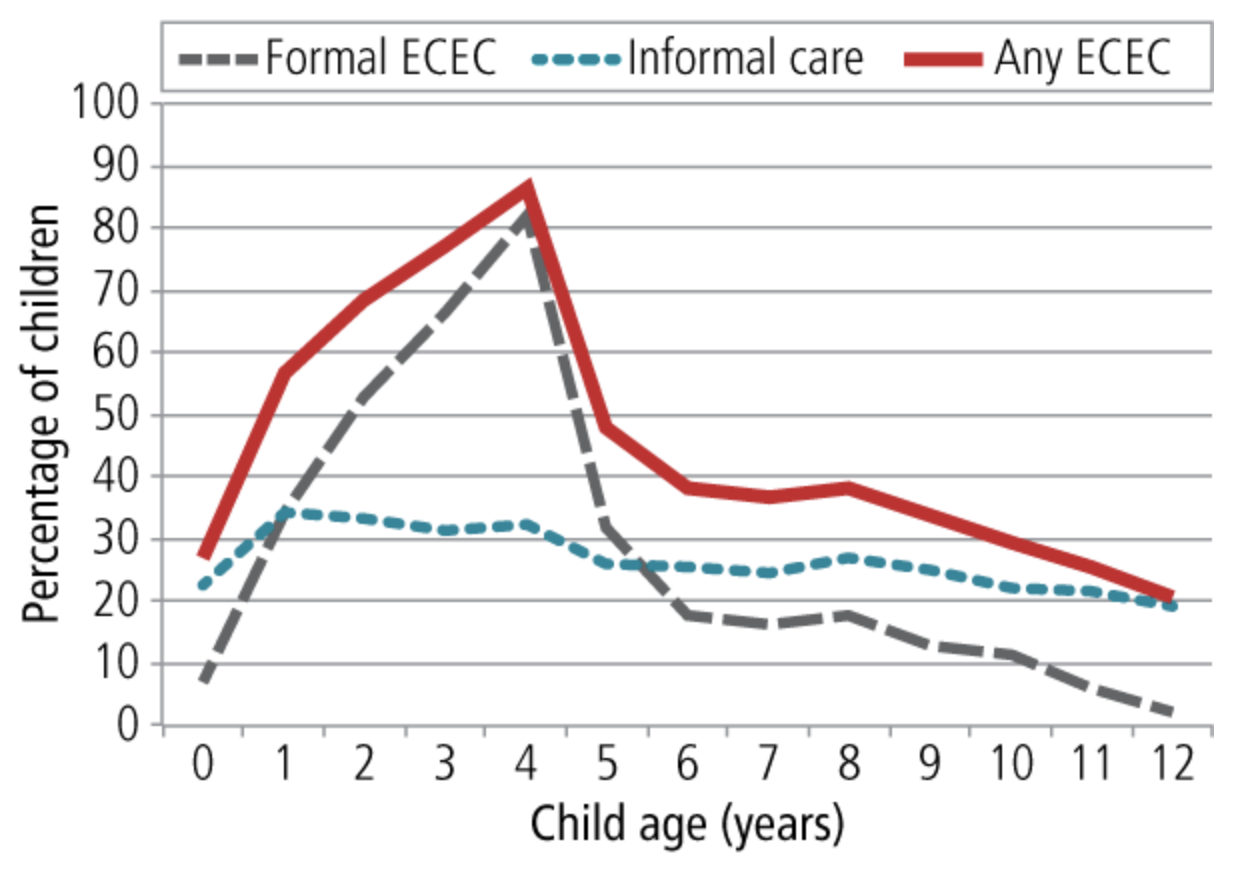 Figure 1: Children's participation in ECEC, by broad type of ECEC and age of child, 2011. (Baxter, 2015)
Therefore, we, a group of 4th year Speech Pathology students from The University of Queensland, worked in collaboration with Speechcare to develop this resource. It is our hope that this resource will provide you with information, education and the tools to recognise when children are not developing communication skills as we would expect.
Why Was This Website Developed?
It has been recognised that communication difficulties in children are being identified more commonly during schooling years. However, it is during the earlier years (0-5) that identification of communication difficulties is more critical. As young children are spending increasingly longer times at childcare centres, it is vital that early childcare educators have the necessary information at their fingertips to identify children who require further support in their communication development. Therefore, an information pack providing up to date communication milestones together with red flags and checklists would impart educators with the knowledge to make appropriate referrals.
To ensure this was relevant and informative to early childcare educators, we sent out surveys to childcare centres asking what information they would like to access.
A special thanks to Website Wiz and Smartspace for the development and hosting of this website.
We hope you find this website useful!
H. Cox, C. Dunn-Palmer, G. Robinson, N. Solanki, K. Stokes, Q. Y. Tan, S. Ting, G. Vuong, in collaboration with A. Jackson from Speechcare
How to use this Resource
How do I work this website?
On this website you will find various resources to assist you in understanding the communication ability of children in the early years. We have put together lists of communication milestones for each age bracket as well as some communication red flags for various ages. These milestones and red flags should be used as a guide to assist early childhood educators (you) in identifying those children who may be communicating at a level below their same aged peers. We have also compiled some checklists to be printed out and used to screen either entire cohorts or individual children who have been identified as or are suspected of having communication difficulties.
With all this information, we thought it would also be appropriate to provide you with information regarding referrals to SPs. This is why you will also find information about when and how to make appropriate referrals to SPs for children who have been flagged for communication difficulties. It is important to note that these tools are to be used to provide some information regarding a child's communication development, and any concerns should be formally assessed by a certified practicing speech pathologist. We hope this website assists you in early identification of those children who may require speech pathology intervention.
Role of the Speech Pathologist
What is the role of a Speech Pathologist?
Speech Pathologists (SPs) are health professionals with clinical knowledge to study, diagnose and treat communication, feeding and swallowing disorders. They work with people of all ages in a variety of settings, such as hospitals, schools, private practices and community health centres.
When working with paediatric populations, it is common for SPs to provide intervention and strategies for babies and toddlers experiencing delays or difficulties with communication and feeding. SPs particularly focus on language and speech development during the early years, as well as adequate feeding to meet nutritional needs.
Some of the areas Speech Pathologists work in include:
Language
Language is the method in which we communicate! It's through listening and understanding words (receptive language) as well as producing words in spoken or written format (expressive language). Language is what gives what we are saying meaning.
Speech
Speech is the physical act of talking, it is how we articulate and pronounce sounds and words.
Literacy
Literacy involves reading and writing. There's also 'pre-literacy', this is in regards to the early behaviours and skills that are associated with successful reading and writing development.
Pragmatics
Pragmatics is the way we use language in social contexts. For example, how we take turns in conversation, use gesture, and make eye contact.
Voice
Voice refers to how we all sound, that being; the loudness, pitch and quality of our individual voice.
Fluency
You may know of this area as stuttering. We call it fluency as it involves the flow of speech.
Cognitive Communication
Cognitive communication is not concerned with speech or language, but instead includes cognitive processes. These are attention, memory, problem solving, organising, and other thinking skills like these!
Feeding and Swallowing
SPs may also assess and provide therapy to children that have difficulty with sucking, chewing or swallowing of food and drinks.
Although we work in a variety of settings and have many different areas of expertise, the focus on this website will be centred around communication (speech and language).
References
Baxter, J. A. (2015). Child care and early childhood education in Australia (Facts Sheet 2015). Melbourne: Australian Institute of Family Studies. Retrieved from https://aifs.gov.au/publications/child-care-and-early-childhood-education-australia.
Fisher, E. L. (2017) A systematic review and meta‐analysis of predictors of expressive‐language outcomes among late talkers. Journal of Speech, Language, and Hearing Research, 60, 2935–2948.
Gladfelter, A., Wendt, O., & Subramanian, A. (2011). Evidence-based speech and language intervention techniques for the birth-to-3 population. EBP Briefs, 5(5), 1–10. Bloomington, MN: Pearson.
Kaderavek, J. N. (2011). Language disorders in children: fundamental concepts of assessment and intervention. Boston: Pearson.
Kemp, S. (2019). Digital 2019: Global Digital Overview. Retrieved from Datareportal: https://datareportal.com/reports/digital-2019-global-digital-overview
King-Dowling, S., Missiuna, C., Rodriguez, M. C., Greenway, M., & Cairney, J. (2015). Co-occurring motor, language and emotional–behavioral problems in children 3–6years of age. Human Movement Science, 42, 344–351. Doi: https://doi.org/10.1016/j.humov.2015.06.005
Kirkpatrick, D. L. (2006). Seven keys to unlock the four levels of evaluation. Performance Improvement, 45(7), 5–8. doi:https://doi.org/10.1002/pfi.2006.4930450702
Lee, J. (2011). Size matters: Early vocabulary as a predictor of language and literacy competence. Applied Psycholinguistics, 32(1), 69–92. Doi: https://doi.org/10.1017/S0142716410000299
Lowry, L. (2016). Bilingualism in Young Children: Separating Fact from Fiction. The Hanen Centre. Retrieved from http://www.hanen.org/Helpful-Info/Articles/Bilingualism-in-Young-Children--Separating-Fact-fr.aspx.
McAllister, L., McCormack, J., McLeod, S., & Harrison, L.J. (2011). Expectations and experiences of accessing and participating in services for childhood speech impairment. International Journal of Speech-Language Pathology, 13, 251–267. https://doi.org/10.3109/17549507.2011.535565
Mcgill, N., & Mcleod, S. (2019). Aspirations for a website to support families' active waiting for speech-language pathology. International Journal of Speech-Language Pathology, 21(3), 263–274. Doi: https://doi.org/10.1080/17549507.2019.1604802
Nelson, N. (2010). Language and literacy disorders: Infancy through adolescence. Boston, MA: Pearson.
Pepper, J., & Weitzman, E. (2004). It Takes Two to Talk: A Practical Guide for Parents of Children with Language Delays (4th ed.). Toronto: The Hanen Centre.