Who Can Help
Find a Speech Pathologist
Other Supports
Find a Speech Pathologist
Speech Pathologists!
The first 3 years of life is the most intensive period of speech and language development and therefore early identification of speech and language delays is imperative in receiving early intervention (NIDCD, 2017). All children are different and vary in their acquisition of skills, however there are certain milestones that are used as a rough guide for normal development. If the 'Communication Checklist' has identified any concerns in speech and language development of a child in your care, please refer them to a Speech Pathologist sooner rather than later.
What happens when you see a Speech Pathologist?
Speech Pathologists use speech, language and feeding milestones to help determine if a child has a delay, disorder, and whether they require intervention. They will always do a comprehensive assessment before providing treatment, and may recommend other professional/community services if necessary. A completed 'Red Flags Checklist' will be useful information to provide with the speech pathology referral.
Tips for finding a Speech Pathologist:
Use Speech Pathology Australia's 'Find a Speech Pathologist' page to find a qualified Speech Pathologist. Speech Pathology Australia is the national body for the speech pathology profession in Australia

The 'Area of Practice' will typically be Language/Learning (Child & Adolescent) or Speech

Ask a Speech Pathologist to provide therapy within childcares. They may be able to provide specialised programs, structured resources and professional development for early childhood educators.

By clicking on the 'Show Advanced' button, you can filter for Speech Pathologists who visit childcares in your area. Do this by selecting 'Childcare/Preschool visits' under Services, and 'Early Childhood' under sector.

Note: you must perform a 'Search' with details entered in the top section before you are able to click on 'Show Advanced'

Refer parents to the 'Find a Speech Pathologist' page by Speech Pathology Australia (see link above) to help them find a Speech Pathologist.

Below is an example of what your search may look like.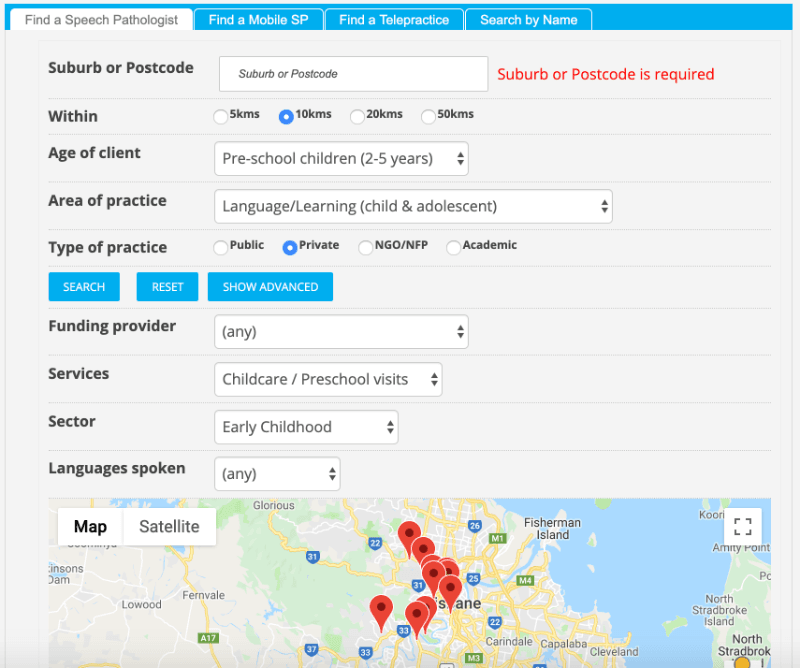 Other Supports
Occupational therapists can help with emotional regulation, attention and concentration span, fine motor skills, play and self-help skills such as dressing, toileting, mealtimes and social skills.
Physiotherapists can help with gross motor skills like balance, sitting, crawling, walking, running, jumping, catching. They also attend to postural problems that may affect concentration and attention in class.
Psychologists have knowledge and skills in learning and cognitive assessment and interventions (e.g., intellectual disability and learning disability), as well as in behavioural assessment and interventions (e.g., Autism Spectrum Disorder and Attention Deficit Hyperactivity Disorder)
A General Practitioner may be able to provide access to funding for families who need to engage with private Allied Health services.

Developmental Paediatricians may help with assessing childhood learning and development, mental health, and trauma and diagnosing conditions such as Autism Spectrum Disorder and Intellectual disability. Please seek advice and referrals from the family GP if you have concerns.